YESTERDAY - A Family Legacy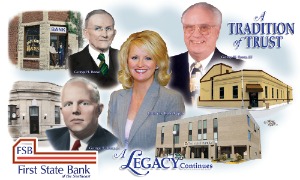 First State Bank's story begins in 1899 in downtown Pineville, Kentucky, with our founder, George H. Reese. The vision and strong character of Mr. Reese is what solidified his bank, and what helped it stay prominent in the community throughout his entire life. Not only is the character of Mr. Reese still seen today in our modern banking practices, but was also known by everyone in his time, with one man even stating that "Nothing will ever happen to that bank, because it is backed by George Reese." The founder of this bank proved the dependability of this organization through his own reputation, and through that reputation of our founder, First State Bank has proven that it has taken care of its customers in the past, is a bank in the modern day that you can trust, and can be counted upon to be here for its customers in all of its future endeavors.
The life of Mr. Reese and his bank paralleled one another. During its early history, First State Bank was often referred to as "Mr. Reese's Bank". Many depositors brought their savings from their homes in the hills and valleys around Pineville to First State Bank solely because of the reputation of George Reese. He viewed banking as a profession rather than just a way to make a living. He guarded his reputation diligently by confining his business activities to the task of running his bank and taking care of his valued customers. This was the belief of our founder over a century ago, and is the same mission we have today here at First State.
TODAY - A Bank you can Trust
The relationship between the success of First State Bank and the involvement of the Reese family go hand in hand. George H. Reese began his family's legacy in the bank as a cashier in 1899. By 1917, he had worked his way up to the office of bank president, and he held that position until his death in 1951. Mr. Reese's nephew, George R. Bentley, was elected president and served faithfully until 1963. George H. Reese, Jr. achieved the office of vice president before passing away in 1967. In September of 1960, George H. Reese III began his career with the bank. He worked his way through several positions and served as the Chairman of the Board of First State Financial, a title that he held until his death in 2009. This long legacy of banking in the community is proven, and shows that we are here for our customers today, just like we were in 1899.
In June of 1998, Katherine J. Reese continued in the long family tradition. She brought with her previous banking experience from Bank One in Louisville, Ky., First Guaranty Bank, and Barnett Bank, both in Jacksonville, Florida. Katherine and her father worked together as she worked her way through various positions at the bank, attaining the position of President/ Chief Executive Officer in 2007. Today, Katherine is now the Head of the Board of Directors and CEO at First State Bank, and is still proving that the Reese family is ready to help out our community and take care of our customers every single day.
TOMORROW - A Vision for the Future
In late 2000, The Lexington Bank (of Lexington, KY), as well as the Town and Country Bank (based in Williamsburg, KY) became part of First State Bank. Their dedication to providing quality, reliable and friendly financial services made them a perfect fit in the growing First State Bank family. Over the next few years, additional branch offices were opened in Lexington and Williamsburg, Kentucky, as well as in Jellico, Tennessee.
In July 2004, in order to more accurately reflect the wide variety of growing banking and financial services we provide, First State Bank, The Lexington Bank, and Town and Country Bank became First State Financial. In June 2007, First State Financial opened New Tazewell Banking Center in The Rockwood Shopping Center. To be a more total financial center for our customers, Mountain Valley Insurance was purchased in March of 2008. This allowed our customers to have easy access to any insurance needs that they may have. Further expansion began in 2017 to build a new branch in New Tazewell to better accommodate our customers. In addition to traditional checking and savings accounts, First State Bank is proud to offer lending, Individual Retirement Accounts, Certificates of Deposits, Debit Cards, Credit Cards, Internet Banking, Bill Paying On-line and now remote deposit capture.
In August 2017, First State Financial was renamed to First State Bank (of the Southeast), giving the original name back to this historic bank. The legacy that began over a century ago with George H. Reese continues today, with his name, bank, and standards of excellence still attached. Most importantly, First State Bank is still here to prove the character of George Reese, and solidify ourselves to our customers that we have the extensive history to prove our loyalty, the faithfulness of the Reese family over many years, and the insight for our future to better take care of our most important asset: our customers.